Never leave the beach again - bottle it up and toss it on your wall.
Artwork so stunning it will transport you to a coastal beach view like you're really there...
Browse by the Coastline - our most popular sell out collection will take you beachside..
Rustic wooden planks are kissed by clear sea foam dressed waves... your feet make a soft echoing thud as you walk toward a dipping sun. Seagulls call in the background as the tide hits the pier supports and crash along a pebble ridden, shell scattered coastline... until you open your eyes and find yourself in your favorite, quiet room... but for the moment, we've taken you for a dusky stroll.. Along the Boardwalk....
Our most in demand collection yet is now LIVE and selling FAST! Our limited Boardwalk coastal collection boasts rustic wood coastal styles that bring you home to the harbor at one glance.
Bring home the Holiday Spirit in Hand crafted ornaments - Hurry! Nearly Sold out!
Here you will find our very sought after and popular handmade, handpainted and detailed Christmas ornaments! Sold in bundles and/or seperate, collect different themes for yourself or make them a perfect small gift or stocking stuffer! 
Flat rate shipping applies, this covers your packaging, the time the artist takes to package, plus the fees incurred to ship your items. Thank you for supporting our small business!
What people are saying
"Love Nicole's work! I bought two pieces one for each of my moms they were loved by all!!! I give 5+ stars I just need to win the lotto and buy all her pieces!! Thanks for the amazing service Nicole you are totally a wonderful, genuine person and a pleasure to meet! Anyone needing pieces, this is your woman!!!! Thanks for everything!"
Ashley S.
"Today I gave my friend her gift, the mini you made.. she got so excited unwrapping it ... you should've seen her face! She loves it!"
Elain J.
Bring home Tropical
One of our most popular themes to our artwork.. Allowing you to bottle up the beach and toss it right onto your wall.. allowing you to bring home the waves.
Fill your wall with our larger scale artwork
Fill that bare wall with our original wall art selection! 
From coastal to edgy and modern, there is something for every house decor style.
Looking for something individually fine tuned to fit your theme? Reach out to the artist about our commission process!
All large art shipping is included to Canada and the US - not inluding any incurred duty or import fees.
Returning Collector
"What can I say about Nicole's art!! Oh my goodness I have ordered a beautiful geode, beach, smaller pieces, Tray, bowl, Beach commission, I am addicted!!Each piece is absolutely gorgeous and made with love I highly recommend ordering something right now if you've been waiting and debating on it, do it!! Hang the piece of art in your house and enjoy it day after day, you won't regret it!"
T. Dea
Returning Collector
"I love Nicole pieces! It's amazing the depth each piece has and I love how they really take you away to the ocean. I can almost hear the waves when I take look at them.. My whole place is covered with her artwork. I can say if you are even hesitate one bit, don't be! I would 100% recommend her art since she really makes sure all her artwork meets her standards and her standards are amazing! Nicole, thank you for caring so so much and making sure we all have amazing experiences with all your work."
Rachel C.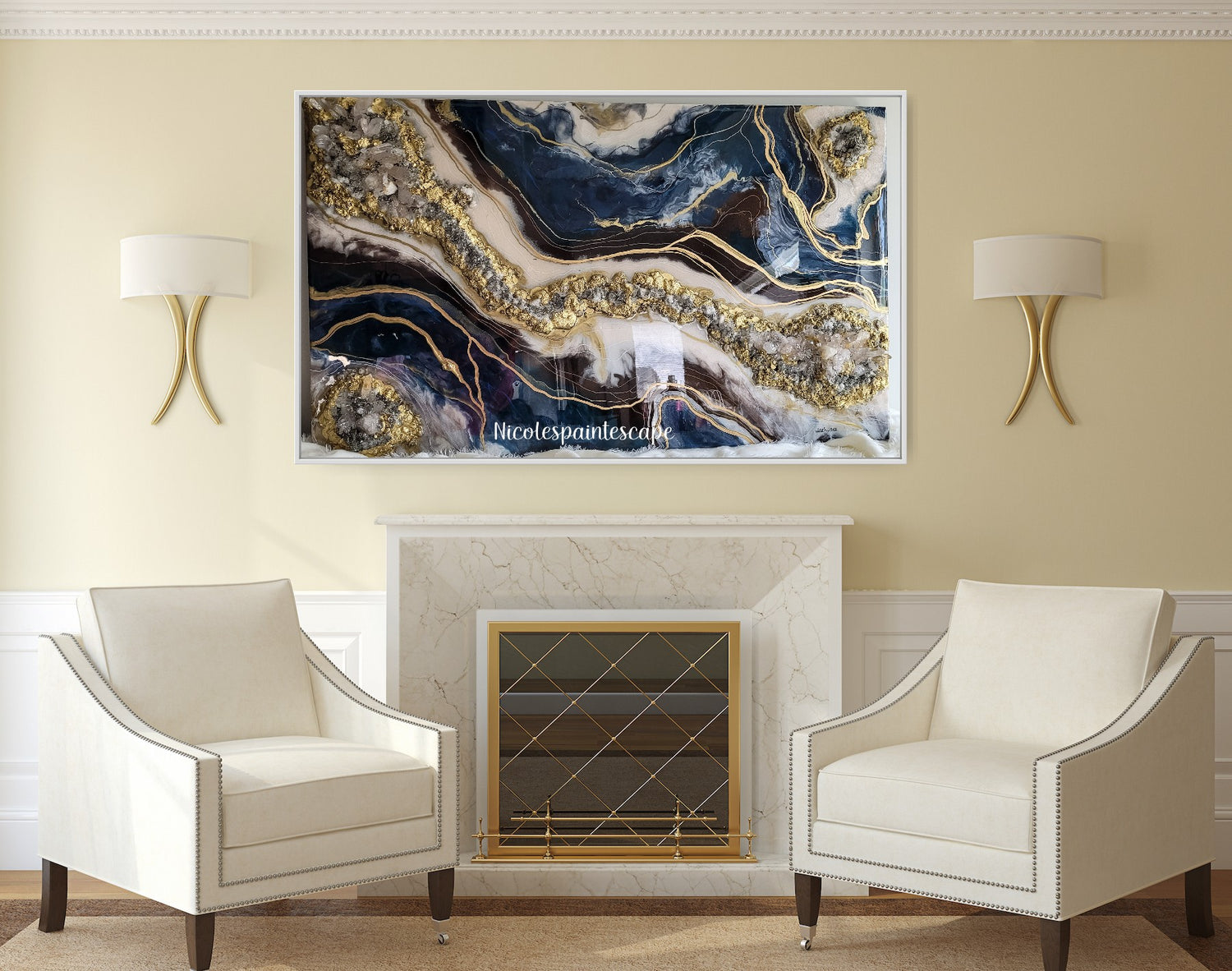 Looking for something with a little more modern, edgy -more sparkle? We have that, too.
Browse-Geode Fine Collection
Shop our Geode fine art for the love of rich color, texture, and add on true authentic semi precious minerals and stones for a luxury statement piece of artwork.
Returning Collector
"I've got several of your pieces in my bedroom and master bathroom now and each look exactly like that's where they are supposed to be. I wanted a serenity zone out of those two areas and your work definitely allowed that to happen and set the mood I was looking for!"
Daren S.
It's not all about the walls.. Spice up your hosting and Decor experience with these functional items, now you can serve your drinks on waves- without having to balance on a surfboard... but if you're talented enough to do that, we won't stop you!
Hello! Meet the artist.
Nicole's artistic journey began at the tender age of two, exploring various mediums from sketching to claywork and painting. While art took a backseat in her professional life, it remained a cherished outlet for self-expression. As the demands of being a healthcare worker and a parent grew, art became her sanctuary—a form of "mental yoga" that allowed her to find balance and reclaim her mental well-being, and to pass this healing of water art onto others.
It is her ultimate goal to create moments of peace and serenity, and with her techniques in her work, Nicole's art carries the power to transport you from the chaos of everyday life. Through her masterful vision of waves transformed through resin and meticulous attention to detail, she captures the essence of waves and brings the beach into your home. Her artwork becomes a luxurious escape, a respite from the stresses that life so often throws our way.
Based in Edmonton, Alberta, Canada, our art studio has expanded its reach beyond borders, proudly shipping our creations internationally. We invite you to connect with us for any inquiries regarding your decor needs. Let us help you infuse your space with tranquility, adding a touch of artistic luxury to uplift your spirits and provide solace in the midst of life's challenges.
Join Our Live Viewing Art Group
Comissions Inquiry Contact form (for custom art inquiries only, any spam or soliciting use will be ignored.)